Orange Jetwing
The orange Jetwing is a product developed in conjunction with the late Jarno Cordia. Jarno was a wingsuit pilot skydiver and base jumper with more than 20 years of experience. Specialized in wingsuit acrobatics, aerial cinematography and coaching, he is considered as one of the highest-ranking professionals in the sport.
The Orange Jetwing
Orange Aerospace manufactured the final wings of this hybrid structure, made of high technology carbon fibre, kevlar and aluminium. The Orange Jetwing uses advanced technologies to be as lightweight and strong as possible. By adding two jets, stability is maintained and controlled. In addition, by using these jets, it will increase the flight time by seven minutes. This makes it the only flight to achieve a Rate of Climb speed.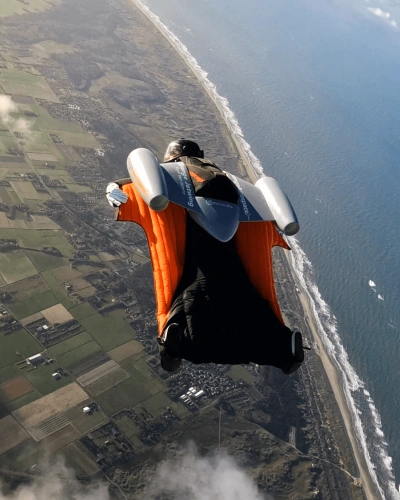 It's time for the next step
Through a complex but strong design, this project is ground-breaking and setting new standards and trends in advanced aerospace technologies. For example, the wings are specifically designed to improve the aerodynamics of the suit. That's a pretty small design framework and shows the possibilities in terms of innovation in aviation.